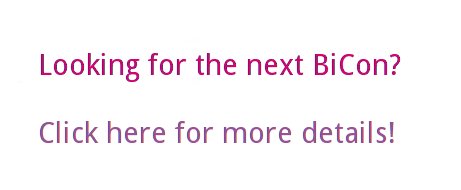 BiCon 2002: News and links
News
Bookings as of 2002-08-10: 151, rooms booked: 141
BiCon-announce mailing list

Everyone thinking about attending BiCon should subscribe to this list and stay up to date. Only the BiCon 2002 team can post to it. There will be very few messages; it won't fill up your mailbox.

BiCon-announce mailing list archives

Read this to catch up on recent news.
This page is meant as a diary of conference organisation, for those interested in a "behind-the-scenes" look.
Links to related sites
BiCon 2002 T-shirts and other merchandise (dead link)

BiCon 2002's CafePress store - surely tea will taste better from a mug emblazoned with our fab logo!
The site for past and future BiCons.
These guidelines define what BiCon should be and what BiCon organisers are expected to do.
Journal of the people organising next year's event
Listing maintained by Bisexual Community News.
Standard 9 wicket croquet rules.
BICON® is a registered trade mark of BiCon Continuity Ltd, and is used with permission.