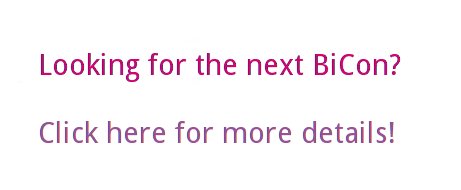 BiCon 2002: Venue and accommodation
Venue
BiCon is to be held this year in College Hall at the University of Leicester. College Hall is a pleasant, leafy, self-contained venue providing onsite bar, meeting rooms, accommodation, and grounds with good spaces for picnics - even a croquet lawn! We will also have access to the University's arboretum, which is five acres of wooded parkland next door to the BiCon site.
BiCon does not provide food, but there are shops, restaurants and takeaways a ten minute walk away, and coffee, snack machines and cold drink machines onsite.
Accommodation
College Hall is a residential venue, and we'd like to encourage you to book onsite accommodation, as this is how we pay for the venue facilities and you will get much more out of BiCon if you do. Kitchens in the accommodation provide a kettle, a microwave, a hob and a refrigerator, but no crockery, cutlery, mugs or pans.
Anyone booking onsite accommodation must book both Friday and Saturday night. You can also book Thursday night if you want to arrive in good time and be fresh for Friday morning. The bar and registration desk will be open on Thursday night and we expect that many attendees will arrive that evening and join us there.
Venue maps
Site map
College Hall, ground floor
College Hall, first floor
Latimer House, ground floor
Latimer House, first floor
Address
College Hall
Knighton Road
LEICESTER
LE2 3TR
BICON® is a registered trade mark of BiCon Continuity Ltd, and is used with permission.