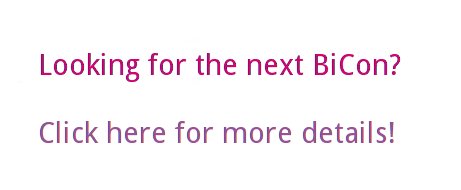 BiCon 2002: Recorded message
BiCon now has a phone number that can be put on publicity for those who do not have Web access. It is
0781 490 xxxx
The message is recorded and we cannot return your calls, so please don't leave your phone number. This is not a general enquiry line.
The number is an Orange mobile phone number, and calls will be charged accordingly.
Callers can leave a message with their address, and we'll send them details and a booking form. However, response time will be variable. You may find it more convenient to print out a form, or to email us your address so we can post you one.
This is the one minute message:
"Welcome to the BiCon 2002 recorded information line. You can learn about BiCon from our website on double-you double-you double-you dot two thousand and two dot bicon dot org dot uk. Or leave a message with your full address to receive details and a booking form in the post. Sadly we cannot return phone calls.

BiCon is the UK National Bisexual Convention, a residential long weekend for around two hundred bisexuals, their partners and friends; it includes a range of relaxed discussion groups and evening parties, and newcomers are always welcome. This year BiCon takes place between Friday 16th and Sunday 18th of August, in Leicester. Booking and accommodation fees are on a sliding scale. Accommodation must be booked well in advance and prices go up by 25% after April 30th, so book now.

Please leave your address after the tone, or visit our website. Thank you for calling!"
BICON® is a registered trade mark of BiCon Continuity Ltd, and is used with permission.