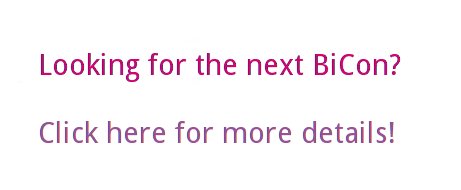 BiCon 2002: Session programme
Sessions offered so far include:
Polyamory for polyamorists
Bellydance for women
Bi Agony Aunt
The Next Generation
Bisexual Erotica
Massage
You Fill Up My Senses... Sensuality in Sexuality
Beyond Gender? Feminism and Bisexuality
Power to the People?
Shag that! 'Body Images'
Bisexuals and Disability
Old Relationship Energy
Naturist Social
Contact Ads game
Fun and Games
Who is bisexual: explaining the Klein orientation grid
Bisexuality in Buffy
...and others I haven't had time to add to this list.
We've still got room for plenty more, so if you've booked, and you'd like to offer a session, please send a brief description to sessions email address removed and we'll try and fit you in. Thanks!
BICON® is a registered trade mark of BiCon Continuity Ltd, and is used with permission.