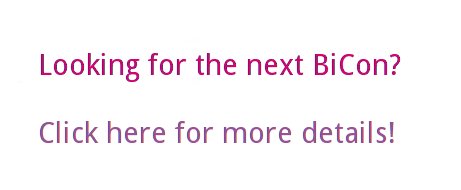 BiCon 2002: Tell the world!
BiCon is the UK National Bisexual Convention, a fun long weekend for discussion of things somewhat related to bisexuality, sex and sexuality and for partying with like-minded people (more about BiCon). If you're coming along, why not tell the world, and encourage your recalcitrant friends to print out those booking forms? Just cut and paste the text below into your LiveJournal, blog, or web pages.
Cut'n'paste:
You can also post to this Livejournal thread in
bicon2002 to tell us that you've done it.
Anyone who wants to help make a prettier version of the above is very welcome, and they'll get a credit on this web page.
Round Tuits
If you haven't quite got around to booking yet but you know you're coming, we provide an alternate icon:
just cut and paste the alternative below.
We look forward very much to seeing you there!
BICON® is a registered trade mark of BiCon Continuity Ltd, and is used with permission.